It's been quite a while since I came here. I'm tired. I'm always booked and overwhelmed with work. I had such a plentiful summer in 2014, I thought I would have some relief… But no. Each time I make a step, a new trial come in. Like an unceasing process of transformation and growth. It keeps coming quicker and quicker, whereas I crave for catching my breath. This Wheel of the Year has been really strange. Darker than the usual. Full of gaps. Some Sacred Festival didn't "happen" energetically, like they were out of the map… The World is changing. There was no break through at "Imbolc" (or else) in February, no lustration, no renewed light. And afterwards Spring was held off for quite a while. And now… I only feel the storm gathering, heavy above our heads, making me so sick I laid in bed for 4 days. Where's the Great Queen ? And where's Freyja ? The year is dark. I am sinking into an Ocean of introspection that is never ending.
Only the Dead remain. And Ancestors. Restless. Relentless.
I had the chance of grasping this wonderful and rare tool in order to help me anchor and work with them : prayer beads for Hyndla, our Grand-Mother, the ultimate teacher for me. The Norns are not far, but their work is heavy and they have let me rest till now… I imagine I'll get something for them too in the near future.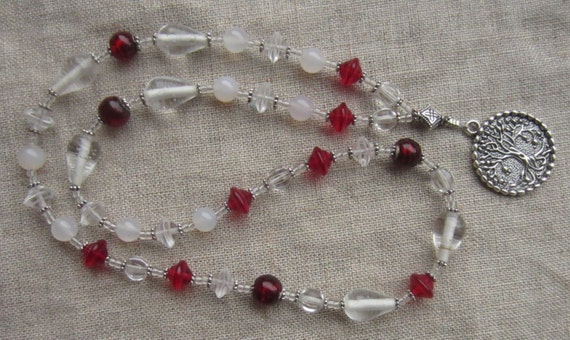 ( >click for more pictures< and description by the crafter,
whom I cannot recommend enough)
I'm locked away in my room, and in my mind, drifting. Shifting. Fighting. And then off to work in that ferocious world. And back again, in the room. Reading, writing, working. There are no words available for me to the world yet.
Take care.